Welcome to our cubby cool cyber... This is our blog to write everything we had in a day or anything we like to remember. Enjoy it!
Monday, November 24, 2008,3:41 PM
fikri's pic
fikri's pic about 2 years ago
Sunday, November 26, 2006,6:51 PM
FINAL FANTASY IX
OUR HEADER BY FIKRI
,6:30 PM
PART TWO: A NEW FRIEND
PART TWO: A NEW FRIEND

After many battles, finally he made it to the Fire Mountain. Suddenly, he heard someone shouted. He then followed where the voice comes from. Then he saw a person that was nearly been attacked by a Caruban monster (a fire breathing lion-winged monster). After that he used his sword and slice the Caruban's neck. The Caruban was hurt and then attacked Lief.
Lief dodged the attack and make a powerful counter attack to the Caruban's legs. Then the Caruban can't use his legs anymore. But the Caruban still can fly and use his fire breathing attack to Lief. Lief still can dodge, but was a little bit hurt because a little of the fire hit his stomach. But Lief won't give up. He then made a powerfulslash to the Caruban's neck, and finally the Caruban died. The person that was going to be attacked by the Caruban last time said thank you to Lief and told Lief that his name was Barda Roberts. He also told Lief that he too is looking for the four crystals. And then Lief asked Barda to be friends. Barda agreed. And suddenly they saw a flashing light under the Carubans body. Infact that is the fire crystal! Lief then put it into his crystal belt. Three more to go! After that they then continue their journey.
,10:40 AM
Final Fantasy IX
Tuesday, November 14, 2006,5:21 PM
camping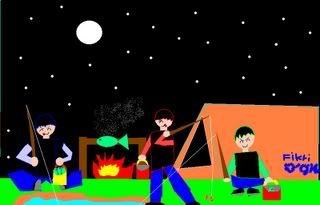 by Fikri
Thursday, November 09, 2006,9:21 AM
RADIANT
PART ONE: THE BEGINNING

Legend tells that whoever collects four elemental crystals then he will be given a tremendous power called Radiant. Many people tried to collect it, but none of them made a success. In a little village, there is a person named Lief Hardson. When he was a little boy, he already dreamed to do it. From he was a child until now, he always practice and practice until he was strong enough, everything he does only to become what he dreamed for. Now is his chance to make his dream come true. First, he takes permission from his parents. His parents were very happy to hear that, but were very sad too because their son will go. So his father and mother gave him a wind crystal that was a family inheritance. Lief was very happy to receive that and said thank you very much to his parents, and then used his grandfather's crystal belt and a sword he bought from the blacksmith. After all of the people in the village said good bye including Liefs parents, finally the journey begins.
by:
Fajri
,9:20 AM
hola!
hi all!
we're back....
Monday, August 22, 2005,3:31 PM
posted by fajrifikri
Permalink
|
6 comments

Sunday, August 21, 2005,10:53 AM
horrible day
Yesterday i had a horrible day. I had a stomach ache.Maybe because yesterday when i was still in school ,when i had my sports subject, my teacher told me that i have to play football because if i don't, i won't get a mark.So, i'm pushed to play it. In the middle of the game, my lung is hurt, so i told my friend to replace me. After that, i watch the game but my team loses two - one. But after that my lung is not hurt anymore. So, i get a rest by buying donut. At home, after i had my lunch i suddenly want to go to the toilet. After i go out, i have a stomach ache and a fever. Later at night i go to the doctor with my mum and the doctor said he didn't know what kind of desease do i have. When it's already 10 o'clock my mum tell me to drink my medicine. After that, i go to sleep.
posted by fajrifikri
Permalink
|
1 comments

Tuesday, July 12, 2005,3:56 PM
sponge bob squarepants movie v.5
i'm a goofy goober yeah, we are the goofy goober yeah...but tey kip sing the song. and spongebob coming with patrick their hiding in the wall.after that thei also sing the song togeter wit the citizen of shell city and his crying because his happy with them and their dried. all of them. his tears going until the electricity and then listrik langsung berasap baru kena roofnya and keluar the water then spongebob hidup again. and thats the end of story...(fikri)